AMV /
Welcome
Welcome to AMV Live Music.
If you have been trying to book a band directly, chances are it's been quite a hassle. Try us first, we will save you time and unwanted stress plus we will provide you with the biggest and best choice of North East based bands, artists and musicians.
Our dedicated team will work with you to find exactly what you want and be your only point of contact during the entire process making the time from booking an artist and them performing at your occasion a worry free affair.
We have a large and varied roster of talented artists, which we have grouped into: ROCK & POP, DJ's & KARAOKE, WEDDINGS, JAZZ & SWING, CLASSICAL, TRADITIONAL & WORLD and TRIBUTES so take your pick and see what he have got on our books, especially for you.
If you can't quite find what you are looking for please give us a call and we will find it for you.
AMV /
FEATURED NEWS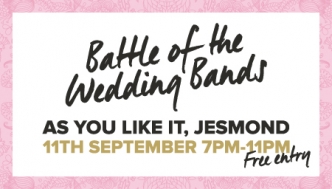 You are invited to our legendary "Battle of the Bands" evening hosted at As You like It, Jesmond on Thursday 11th September 2014.
View
AMV /
MAILING LIST
Join our mailing list for updates on up and coming gigs and events, competitions and promotions. Don't worry, your details will remain confidential and won't be shared with any third parties which means no spamming.